Sushi restaurant Nanbu in Amsterdam is a place gourmets are sure to find. Located in a side street opposite the famous Amsterdam RAI exhibition complex, they are known for their interesting menu full of various flavors of sushi and Japanese delicacies. Or as they say themselves "Sushi and more".  Naturally, I took the test and was surprised by the versatile sushi.
With around 200 positive reviews on Google with an average rating of 4.5 stars, I was especially curious about the flavorful rolls of sushi. And I, along with a group of friends, was certainly not disappointed.
The very friendly owner Ho brought our party to a table near the window where, very thoughtfully, warm moist cloths were waiting for us. Just refreshing your hands before eating sushi; that always makes me happy.
The first glance at the menu also made me happy. Various kinds of sushi stared at me with names I hadn't come across before. 'Halibut truffle nigiri' with truffle oil, a 'Snowcrab roll' with popcorn (!) and a 'Crunchy Hotate Roll' with scallops and wasabi mayonnaise. Like standing in front of a shop window filled with nothing but delicacies. 
The choice was tough, so we just ordered a table full right away. The nice thing about the menu at Nanbu is that you can order rolls not only by 8 pieces, but also by 4. Ideal if you want to eat sushi for two, because this way you can try several rolls, and thus several flavors. 
There is nothing wrong with the presentation. The first course of sushi was brought to the table with particular spectacle. A beautiful platter where dry ice created a mysterious smoke screen. Phones came at the ready immediately and one photo after another was taken. A beautiful sight and the chef is then immediately 1-0 ahead! 
Sushi you should definitely order:
As mentioned, the menu does not feature the everyday sushi and you are definitely going to be surprised with everything that comes out of the kitchen. But there were definitely three rolls that stood out for me:
With spot number 1: The Ebi Tower Sushi. Truly fantastic! Tempura kappa maki, avocado mousse & Ebi Katsu on top. One big explosion of flavors that every sushi lover must have tried once. My favorite of the evening!
My number 2 is for fresh tuna lovers. These certainly come into their own at Nanbu as well. The "Crispy Tuna Nigiri". Deep fried rice topped with particularly flavorful tuna tartare topped with some chives and sesame seeds. A seemingly simple nigiri if you read it that way on the menu, but made with such craftsmanship that we just ordered it again. The crispy rice along with the soft tuna tartare is truly delectable.
In 3rd place, a particularly surprising roll was the "Sakura tuna roll" with pink Sakura Dembu powder. When this one arrived on the table, you saw the ladies brighten up immediately.
The pink powder looks tremendously like the candy you used to get in a small bag as a child, but make no mistake: it's totally different. Sakura Denbu powder is powder made from dried fish which has been sweetened considerably. Together with the Japanese mayo and Tobiko, it creates a unique taste sensation. A lot happens in your mouth when you take a piece of this roll. An experience you have to go through. Bet you're going to smile.
Who is Nanbu suitable for?
If you like "all-you can-eat" sushi, walk quickly past this restaurant, because this is not for you. This restaurant is for the lover of Japanese cuisine who can appreciate quality (at a certain price). 
Do not expect the standard Maki's or Nigiri's here, but instead you will get works of art from the kitchen. The creativity of the sushi chef is undeniable. Each piece of sushi is extremely flavorful and in terms of presentation, you certainly won't be disappointed. 
Sushi purists will certainly comment on the fact that it is "not traditional sushi," but that's what other restaurants are for. This is where you come when you have a nice date you want to impress or when you have something to celebrate with friends or family.
Sushi restaurant Nanbu is a small, intimate restaurant where you can look right into the kitchen. The tables are, as usual in Amsterdam, just a little too close together. But you quickly get used to that. Especially for summer days, there is also a small terrace in front of the door with a few tables to sit at.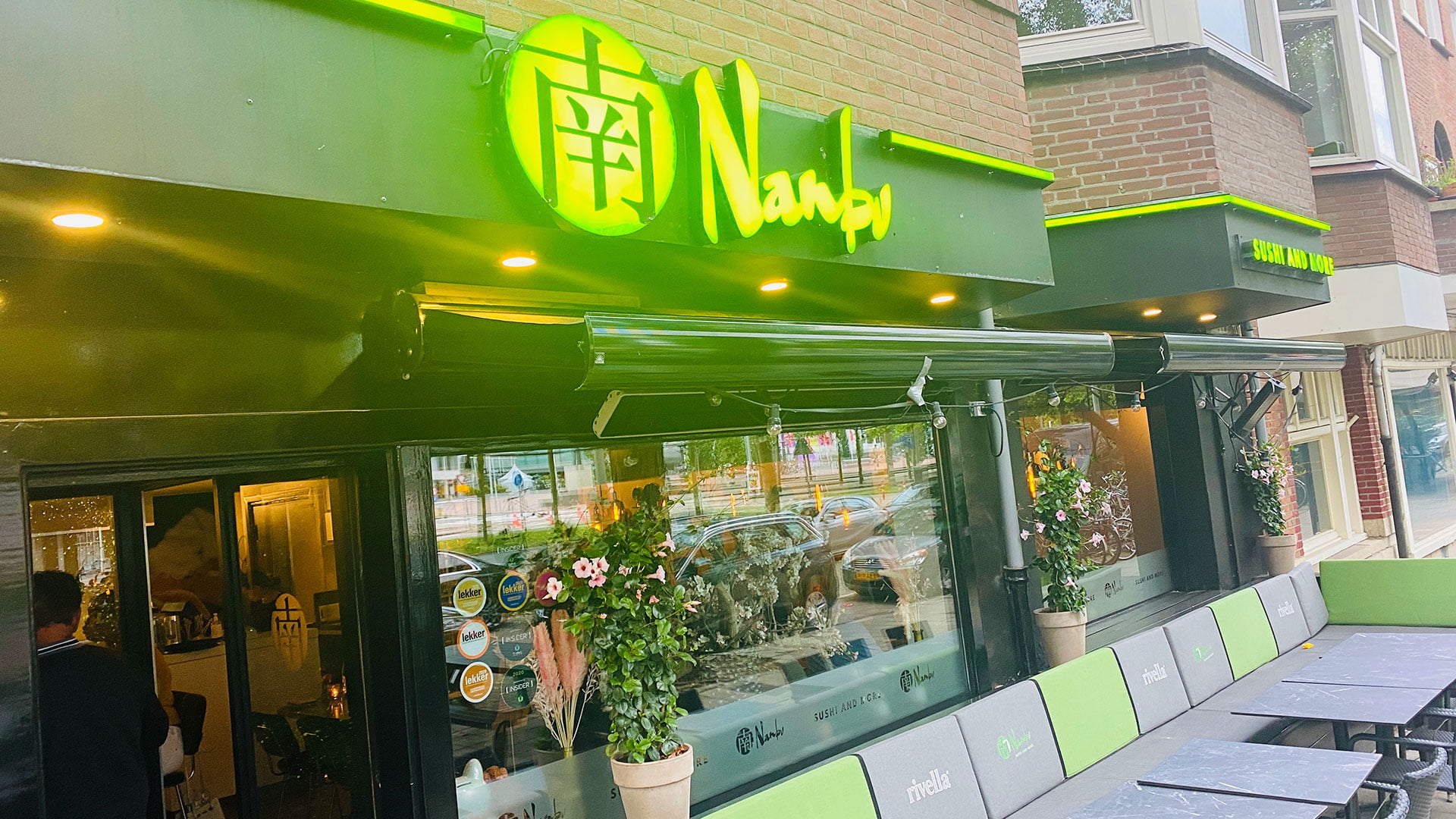 The service is outstanding. Eye for the customer and incredibly friendly and hospitable. Ho and Morning (the owners) don't get many regulars who stop by regularly for a reason. 
The menu is extensive and besides sushi and sashimi there are also salads, grill specialties and Teppanyaki dishes on the menu. Something for everyone. You can definitely go here with a group of friends or family who each have their own preferences in terms of (Japanese) food. 
The wine list is small, but the selection is good and you won't be disappointed if you order a glass of wine here. We drank a delicious Santiago 1541 Chardonnay (from Chile) with our sushi and this wine went more than fine with the sushi. 
All in all, an excellent experience and I understand all the positive reviews on both Google and TripAdvisor. This is a fine restaurant for the enthusiast. 
Address sushi restaurant Nanbu, Amsterdam